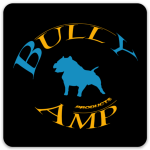 Bully Amp products are designed to increases muscle mass, gain clean and healthy weight, loaded with Omega 6 and protein. We originally created Bully Amp products for dogs who had a hard time holding onto their weight and muscle mass and the results were way better than we imagined!
Over three years of research, All natural ingredients, Grain free, Soy free, Dairy free, Gluten free, Clean feeding with zero side effects!
USE IT AS A HIGH REWARD TRAINING TREAT, SNACK BETWEEN MEALS, INCORPORATE INTO YOUR DOG'S FOOD, FEED AS MANY AS 30 PER DAY DURING BULKING SEASON.
Packages of 50 for $10, 100 for $15 and 200 for $30 + shipping
RESULTS IN JUST 30 DAYS!
Is Bully Amp Products good for all breeds? YES!
Can I give Bully Amp Products to a puppy? YES!
Will Bully Amp Products cause any side effects? NO!
What is the shelf life of Bully Amp Products? 2 weeks in room temperature or 4 weeks chilled.
Doesn't contain any Soy, Dairy or Nuts? No Soy or Dairy but it does contain peanut butter based products.
Will Bully Amp Products help my dog gain weight? YES!
What is the maximum Bully Amp Products I should feed my dog? No more than 30 per day.
Do I need to run my dog to see results? No, Bully Amp Products work internally first. Running and working the dog will only increase the results and speed them up.
Unlike other products, Bully Amp products are designed to increase weight and over muscle mass without causing any heart, liver or kidney failure!
HERE IS BEAU AFTER 30 DAYS OF USING BULLY AMP.